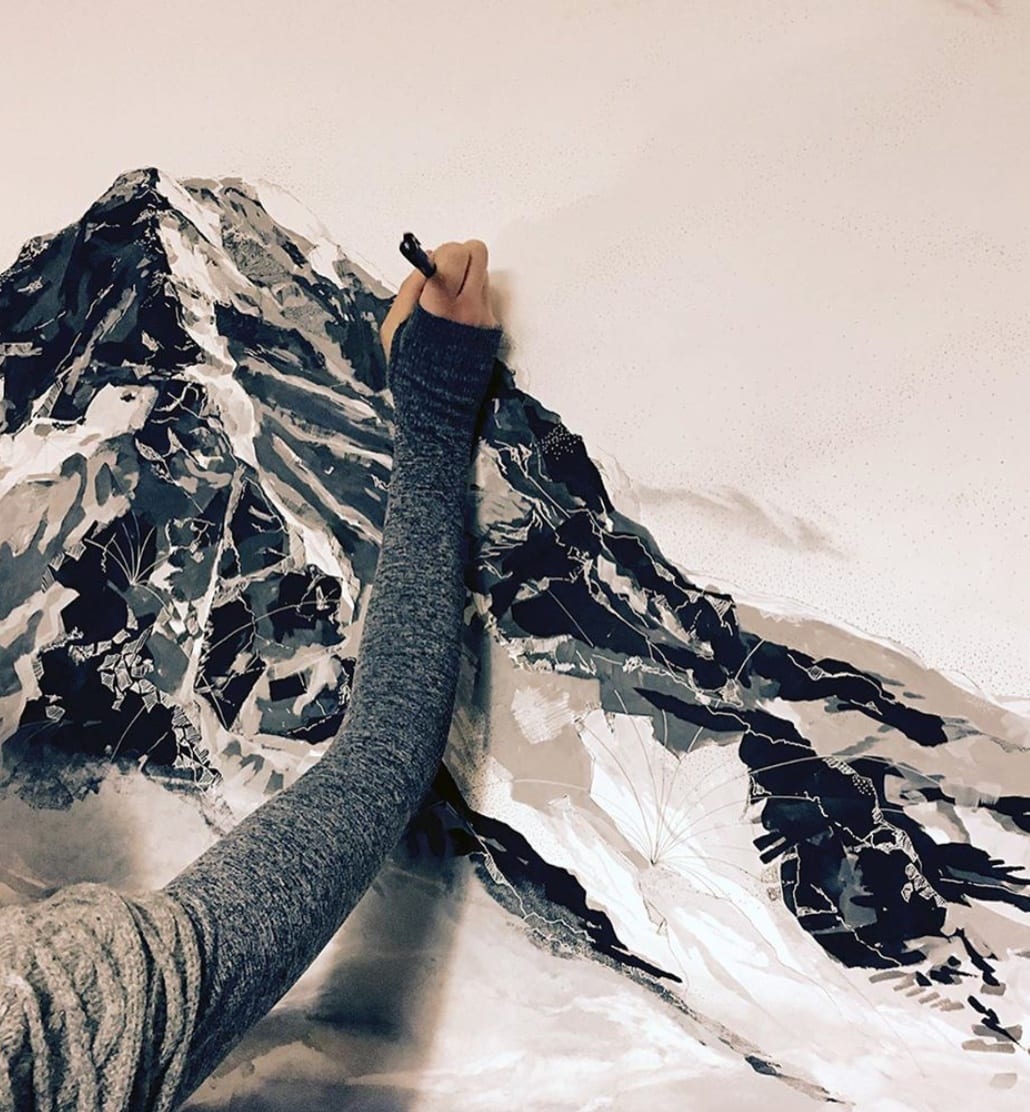 Q) What messages do you explore within your work and has this changed in isolation?
A) My work depicts the natural landscapes from which modern urban lifestyles are increasingly disconnected. As we begin to see the consequences of the ever-increasing encroachment of "civilization" on the natural world I really want to reconnect us to nature and in turn promote us to conserve and respect the wilderness. Nature had long been an escape for me and a place to reflect and be happy, and I wanted to share this feeling through my art. When I went into 12 week isolation, due to chronic leukaemia, I felt very lucky as I still had my own bit of nature to escape into, but I know a lot of people won't be so lucky, and we all know how powerful nature is for our health and happiness. So it just felt natural to find a way to share nature through my artistic practice, and in an effort to keep me busy, and to offer a little bit of solace I started #12weekofnature – each day I draw a calming natural space, and via art I hope to bring everyone a bit of virtual nature into their homes.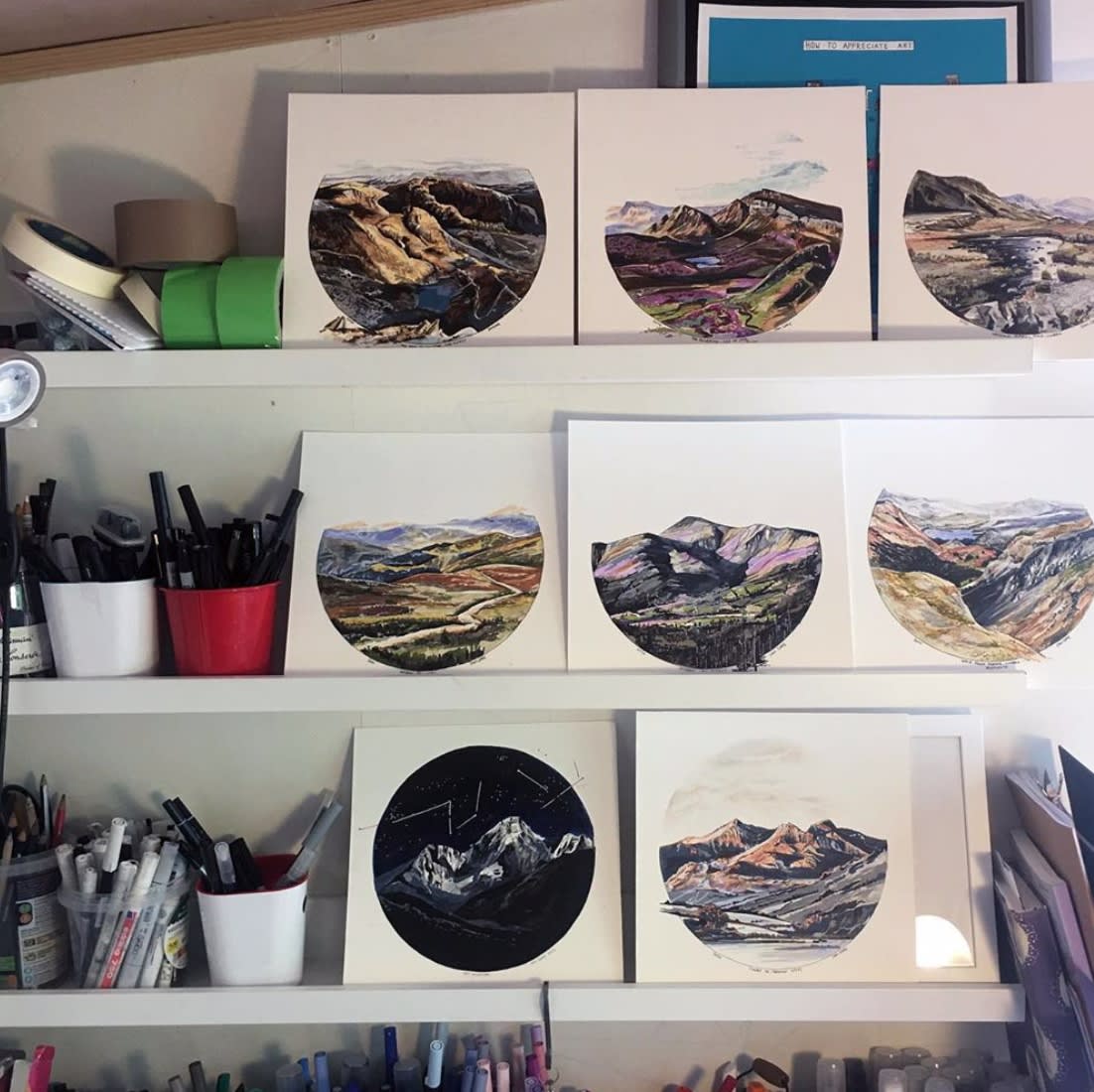 Q) How have you had to adapt how you create your work? Has this meant changing your style/size/setup?
A) I usually work very large scale, and on a single artwork for a week or so, which suited the scale of the subject of my work. As I am now in 12 weeks isolation, I could see that working on one piece for a long period of time might not be the right thing. Unlike other times where I would have loved the focus and quiet, I feared it might make my days and weeks feel long and lonely. I was craving variety, so I have started doing small daily drawing, which lets me play and experiment. They also create an outlet for me to remind myself of the beautiful natural places I'm missing. I hope that my current project #12weeksofnature can share nature to those who are locked away and they can experience their favourite outdoor place through my art. I know it won't beat the real thing but I hope it helps.
Q) Do you have a companion at your place of quarantine?

A) Yes! I have a cat (Mousecop) two Indian Runner Ducks (Junko & Porridge). And of course, my fiancé Mike. I feel like we have a great urban smallholding.


Q) What's your daily routine and how do you keep a work/life balance?


A) I was already working at home before I went into isolation, so I was lucky that I have a studio in my garden and I have spent the last 2 years figuring out the work/life balance, so I can sympathise with people who are just starting to figure this out. It can be extra hard when your home is also your place of work. I found having a separate workspace to your living space is really important so you can literally shut the door to your workday, and vice versa, otherwise if you're like me you will just continue! #12weeksofnature has also given me a lovely structure to my day. After I have fed all the animals and let out my awesome pet ducks I set up the studio for the day, put on music, light the wood burner if it's cold, and then sit and work on my #12weeksofnaturepiece for the morning, and spend the rest of the day exploring new art ideas, gardening, baking, and working on the admin of my art business.
Q) Do you have a network of fellow artists and creatives, and do you feel people are supporting each other?

A) I'm a Co-Founder of the Wilderness Art Collective (www.wildernessart.org / @wildernessartcollective), a group of creatives, artists & environmentalists whose work discusses the natural world. We are currenting looking at new ways we can support our members. We had to cancel our summer show, but we have a lot planned for the upcoming Summer. If there is anything we can do support other artists at a time when their main income has likely been reduced to cancelled shows and events, so I'm honoured to be able to help them.


Q) What advice would you give to fellow artists and creatives in this situation?

A) This is a great time to experiment and play, and an opportunity to try those ideas you have always told yourself that your too busy or committed to shows and exhibitions to do. It's nice to have the time to explore things you have wanted to do for ages… I always wanted to create a time-lapse of my work and I have now given it a go. I'm getting better as the days go by, if the camera doesn't fall off, or I forget to press go. So, let yourself go, and have fun!