I've been painting professionally since 2008; before that I taught A Level Art and Graphics after acquiring a degree in graphic design.
Can you tell us about your most recent work?
My swimming pool and mountain obsession came about after trips to Sierra Navada and the Alps. I'm incredibly drawn to where manmade and natural forms are juxtaposed. I love to explore this as a starting point in all my work.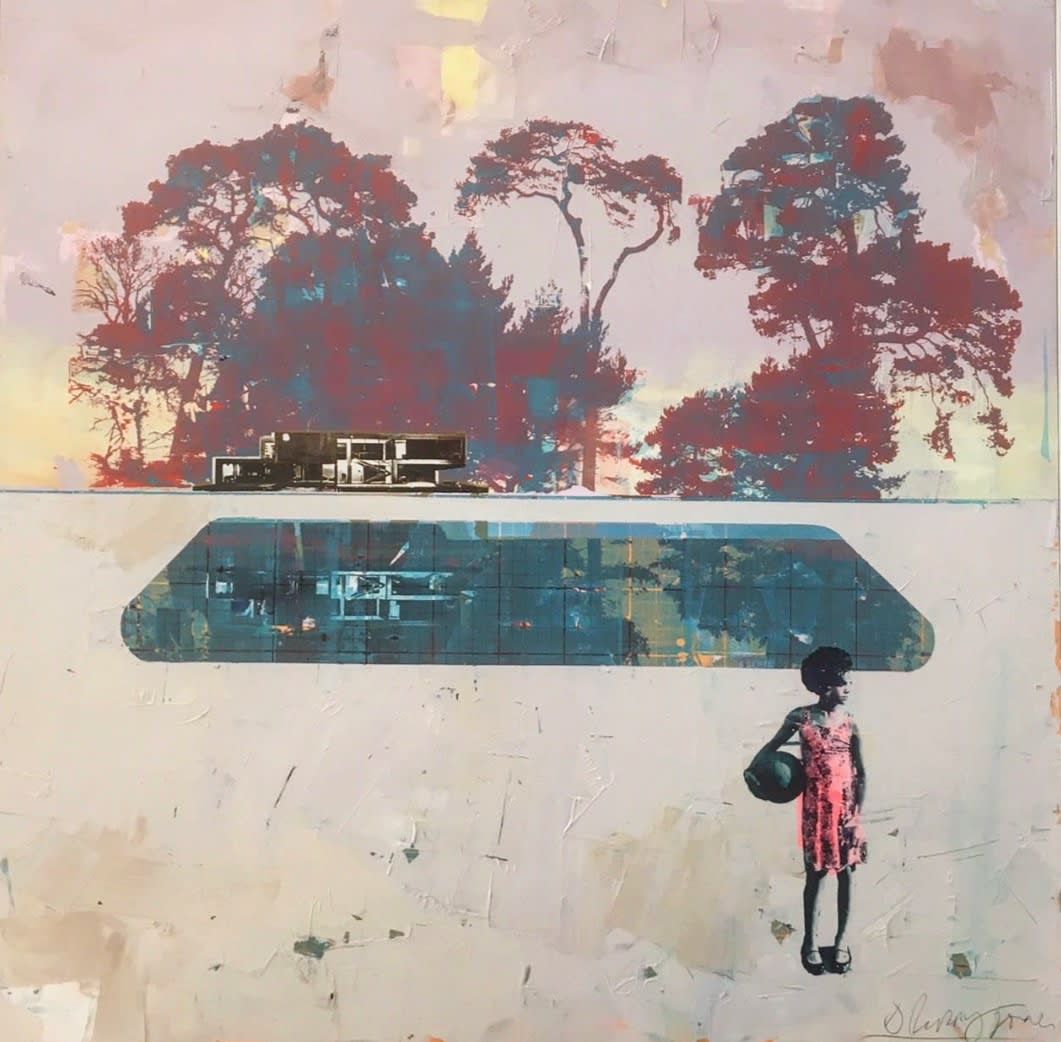 What inspires and influences you?
Travel always inspires me, but I have recently realised that things I see regularly on the walk to my studio, for example, end up working their way into my paintings. This is particularly true of compositions and shapes or structures. So much of what I do is subconscious and I've realised that my process is about having a starting point but then working in a way that allows access to this.
What advice would you give to your younger self?
When they told me I had to choose between graphic design and fine art at foundation, not to stress about it! It felt like the hardest decision I had to make, at only 19. But everything has worked out absolutely fine. There was no need to worry!
If you had to describe your work in 3 words, what would they be?
Honest. Distinct. Nostalgic.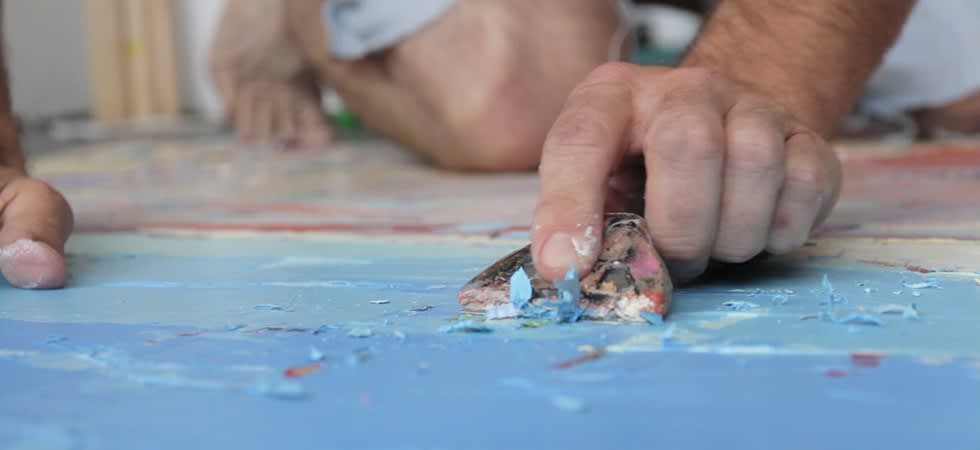 How much is your environment key to you practice?
My studio is my sanctuary! Although I make so much mess by continually scraping paint and sanding that the floor is always completely covered in dust, masking tape and spills.... I love it, but I do wonder sometimes how a differentt space would influence the outcome of the work I produce. I share my floor with 8 or so other artists. We know each others' work well and so, in that respect, it's incredibly useful to get feedback.
Is there one item in your studio that you couldn't live without?
I use a cheap plastic glue spreader as my palette knife. I've really tried to upgrade it by investing in decent metal ones, but it's just not the same!
If you could exhibit or collaborate with anyone, who would it be?
I'd really like to create some completely abstract pieces and have a show with Antoni Tapies or maybe some of the American painters of the 1950s... Seeing as you asked!
Can you tell us more about your creating process?
Generally, I keep a sketchbook to scribble down quick composition ideas. Then, in the studio, I work on plywood and after priming a few layers I'll draw into wet paint a loose composition of shapes. At this stage I might screenprint my figures, or whatever the photographic element is, before building up the background in layers of acrylic paint and collage. The final work will often have several layers of colours under each area of paint which I scrape back to reveal the initial layer.
My best work, I think, always have to go disastrously wrong before I turn the board upside down or get annoyed and do something drastic which will either spark something new and exciting... or, it needs to be left alone for another time!
Is there an artwork you would specifically like to own?
I wouldn't mind a Guernica, if you're offering? Or maybe an Ocean Park painting by Richard Diebenkorn. That would be nice...!
What would be a dream project for you?
I would love to participate in a residency somewhere near the sea with mountains, swimming pools, in a huge studio with massive windows...!
Or, on a more serious note, I like the idea of a collaberative series with another artist which enables me to take on a project that's going to take me out of my comfort zone.